Indian Head Massage – What is it?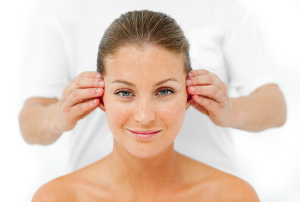 Are you feeling stressed and anxious? Do you suffer from stiff neck, migraine, heaviness and feel the burden of the world on your shoulders? You need a session of Indian Head Massage as it promotes relaxations, reduces stiffness in back and neck areas, increases concentration levels and even boosts productivity.
This technique of massage is an instant stress buster that lasts for about 40 minutes. During this time, I will work on your upper back, arms, neck, head and face areas. This will help to release tension in the muscles, aid the flow of oxygenated blood to the upper part of the body and head, and drains lymphatic nodes amongst other things.
Indian Head Massage originated in India where it is called Champee or Champissage, an intense massage on the upper back, neck, arms, head and the face areas. This complementary therapy is a great way to feel re-energised at any time of the day. Not many people would say no to this wonderful technique once they experience it!
To book a session of Indian Head Massage please call 07521 378 701
Great for people from all walks of life especially those in –
High stress level jobs
Employees working long hours in an office
IT staff
Professionals
Teachers
Students and others
Benefits of Indian Head Massage –
Here are some of the benefits of this type of massage –
Can help with boosting immunity
Relief from stress and promotes relaxation
Can help with issues of sleeplessness, restlessness and insomnia.
May help headaches, migraine, neck and back pain Improving circulation,
Improvement in energy levels
lymphatic drainage
Mandibular Joint Tension

improvement

Improve muscle tone
Can promote clarity leading to increased concentration
May help with asthma by calming the respiratory system
Can relieves symptoms of sinusitis
Cerebral spinal fluid circulation improvement
Help with stress and anxiety
What to expect?
Indian Head Massage targets physical, emotional and mental issues. The qualified therapist works by using different techniques of massage on the upper back, shoulders, neck, arms, head and the face areas. It improves blood flow to the upper part of the body such as head and neck and helps lymphatic drainage.
It is a seated massage done fully clothed. Because the treatment is non-invasive, it may be undertaken anywhere, in your office or your comfort of your home.
A session of Indian Head Massage costs £45. To book a session of Indian Head Massage please call 07521 378 701